For twenty years, LeaderSpring has invested in the extraordinary talent, dedication, and vision of progressive grassroots leaders in the San Francisco Bay area. Through our signature leadership development program, we have equipped nearly 250 social sector executives with the knowledge, skills, and networks needed to lead high-performing organizations and drive lasting change. Learn more about our history here.
Collectively, LeaderSpring Fellow and Alumni organizations annually serve over one million low-income children, youth, and families through a range of programs focused on education, health, childcare, job creation, economic justice, and advocacy.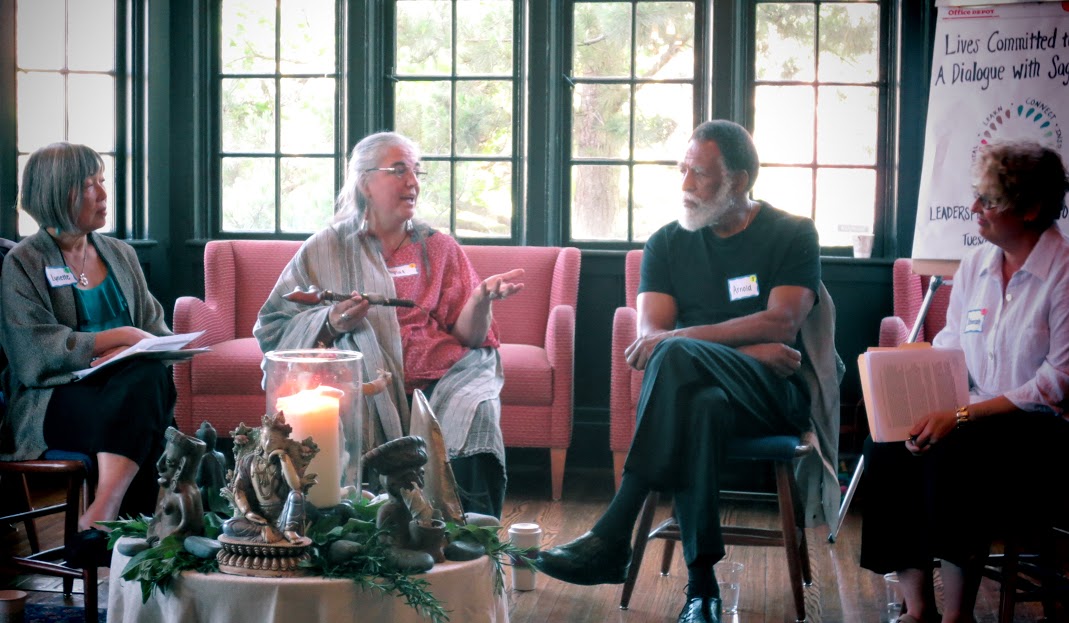 Sage, accomplished leaders share their leadership journeys and life lessons at a LeaderSpring Alumni event. Left to right: Lynette Jung Lee, Patricia St. Onge, Arnold Perkins, and Debbie Alvarez-Rodriguez.
We believe that strengthening social sector leadership is one of the best ways to ensure that low income communities benefit from effective services and greater opportunities. The National Committee for Responsive Philanthropy has recognized LeaderSpring as one of four pioneering leadership development programs in the United States.
OUR MISSION:
LeaderSpring's mission is to foster a powerful, equity-driven social sector by strengthening leaders and organizations; developing communities of leaders; and transforming the systems in which they work.
OUR VISION:
Our dream is that leaders, organizations and communities in the social sector achieve their promise and potential to create a healthy and equitable society.
OUR DREAM
Leaders, organizations, and communities in the social sector achieve their promise and potential to create a healthy and equitable society.
Our Values:
Leadership
Taking responsibility for what matters. Leadership is an on-going practice at all levels of an organization and community, transcending title or position. LeaderSpring trains emerging, mid-career and senior leaders, and helps them foster leadership in others.
Community Well-being
A balanced satisfaction of personal, interpersonal, and collective needs. LeaderSpring helps leaders strengthen skills and relationships so they may create something more meaningful and larger than the sum of their parts.
equity
The elimination of racial, economic, and social disparities. LeaderSpring strengthens social sector leaders and organizations committed to fostering equity in their communities.
Collaboration
Integrating services and leveraging resources toward a common goal. LeaderSpring fosters agency collaborations toward transformative impact in community.
Head and Heart
An integrated, holistic approach to leadership development. LeaderSpring's learning communities of practice blend rigorous standards of performance, reflective learning, trusting relationships, and personal renewal.